Power Measurement Has A Bright Future Ahead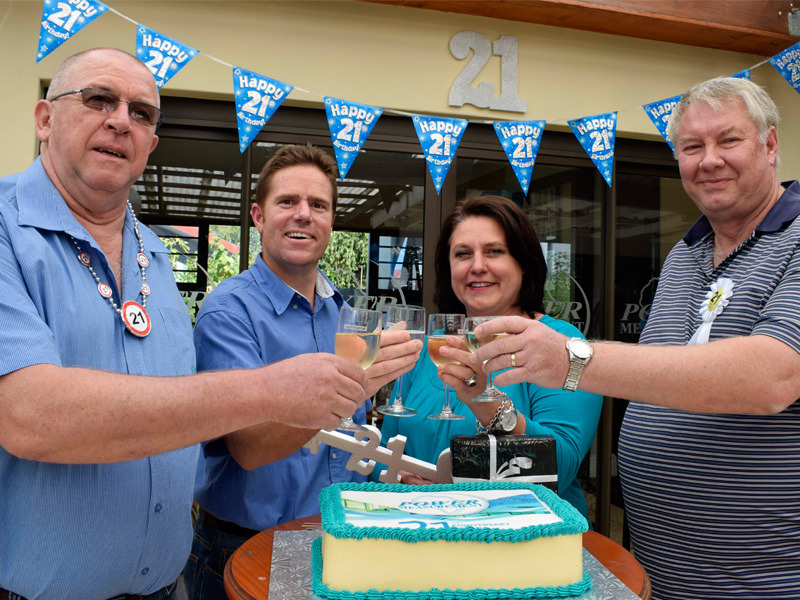 Power Measurement and Distribution PTY (LTD) is celebrating reaching another milestone birthday.
This month, the national company officially turned twenty-one after first opening its doors in George during 1996. Established by Barry Shackleton in his in-law's kitchen, the company has grown to become one of South Africa's leading metering and utility management providers.
Barry was later joined by Llewellyn Thomas, Neal Douglass and the late William Erasmus, expanding the business countrywide. The head office remained in George, with branches opening in Cape Town and Johannesburg.
Founder and Director, Barry Shackleton, said: "This is a momentous landmark in Power Measurement's history, and it wouldn't have been possible without our dedicated staff and the support from our loyal customers over the years. Neal, Llewellyn, and I thank each and every person involved in helping Power Measurement to reach this coming of age. To be successful, your heart has to be in your business, and your business in your heart."
The trio remain as directors on the board, and they have handed over the day-to-day running to shareholders Johan de Klerk and Marietjie Launder. The company now employs 42 permanent members of staff.
Power Measurement offer a number of different pre-paid and conventional utility management solutions for electricity, water and gas consumption. The company also supplies remote and smart meter reading facilities, meter products and allied equipment. Other growing service areas include auditing for large power users, and a Revenue Protection Department that protects against revenue loss as a result of tampering or human interference. These products and services are available countrywide.
Johan de Klerk, General Manager, added: "The recent drought in South Africa has put our prepaid water meters in very high demand. The company has also embarked on a number of new ventures, including the introduction of agents to assist with sales in outlying areas and the launch of a prepaid electricity meter in the retail market. This meter makes it easier for landlords to recover the costs of consumption directly from the tenant."
Recent posts
Contact Us
Account Queries:
086 107 6937
George (Head Office):
044 873 0762
Cape Town:
021 556 3810
Johannesburg:
011 026 9514